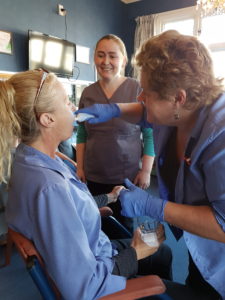 New Zealand has an ageing population and older individuals are retaining their natural teeth at increasing proportions. The greater retention of teeth in the older population increases the need for preventive oral care at our rest homes.
At Central Dental Alexandra we understand the difficulties facing our elderly when it comes to dental care. They often have physical mobility, health, financial and cognitive issues which make accessing private dentistry very challenging. In addition to difficulty accessing care, the treatment of these patients can often be difficult in private practices.
Prevention of as many oral health issues as possible really is best!
We have received a grant from the NZDA and Wrigley Company Foundation to get our project off the ground.
So what did our project involve?
Visiting our 5 local rest homes and proving staff oral health promotion meetings to discuss good oral health practices.
Providing in-home oral health screenings for consenting rest home residents.
Providing a clean and fluoride application for consenting rest home residents.
Providing each resident with natural teeth an electric toothbrush, high fluoride toothpaste and interdental cleaning aids to assist with ongoing excellent oral health practices.
Providing information on how residents in pain or with other urgent dental needs can access further care.
Following up with each rest home after the completion of the above to get feedback on ways we could improve our project going forward.
Have some feed back on our project, we'd love to hear from you! Interested in helping us out with some funding or dental hygiene products in 2019, feel free to contact us through our website or over the phone.